Report from the IMPACHT conference in Barcelona June 30th – July 1st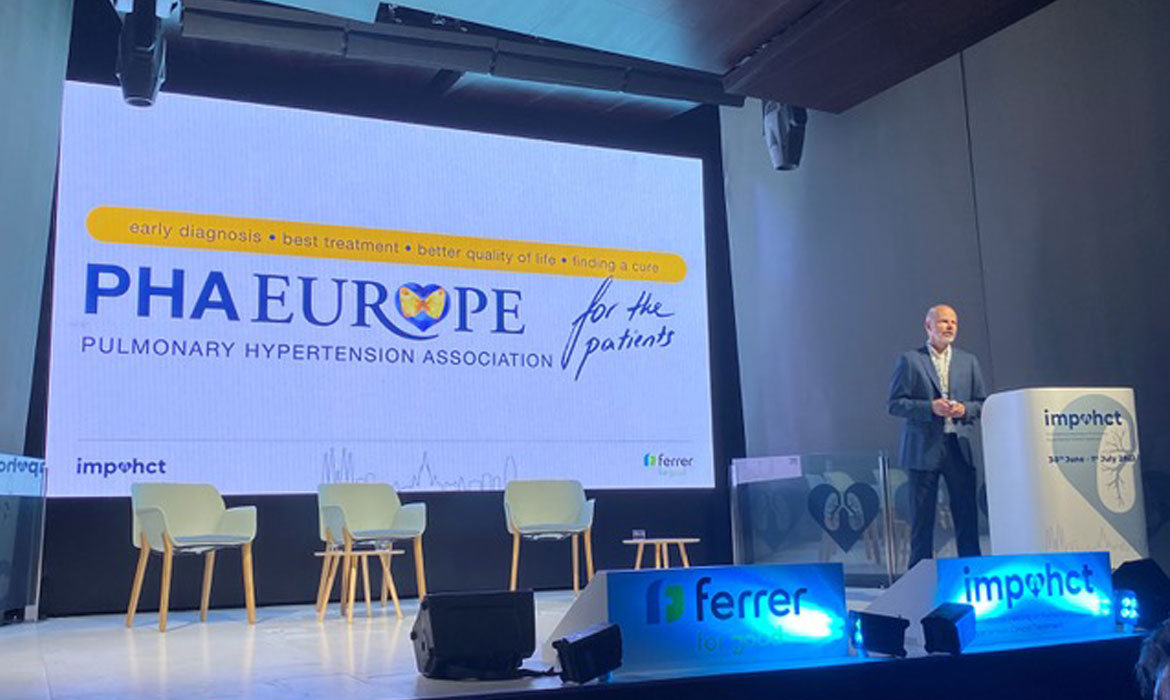 Ferrer annually hosts a conference known as IMPACHT (International Meeting on Pulmonary Hypertension Clinical Treatment) that caters to pulmonologists and cardiologists. This year marked the fifth edition of the conference, attracting over 150 healthcare professionals from more than 30 different countries.
In a novel approach, Ferrer decided to incorporate the "patient's voice" in the conference for the first time. I was honored to deliver a presentation on behalf of PHA Europe, while the leader of the European Pulmonary Fibrosis Federation (EU-PFF), Steve Jones, was also invited. Together with Dr. Gabor Covacs from Austria, we held an hour-long session titled "Patient Support in PH". The session commenced with Dr. Kovacs presenting on the holistic approach to treating PH patients. Subsequently, I shared information about PHA Europe and my personal journey with PH, while Steve narrated his experience as a transplanted fibrosis patient and EU-PFF's work. The session culminated in a roundtable debate, encouraging questions from the audience.
During my presentation, I illustrated PHA Europe's work, emphasizing that our logo accurately represents our key objectives:
Early diagnosis
Best treatment
Better quality of life
Finding a cure
I further expounded that our work is grounded on four pillars:
Awareness
Capacity Building
Advocacy
Information
I highlighted our World Pulmonary Hypertension Day (WPHD) events for the awareness pillar. For capacity building, I mentioned our White Spot Program and explained how leading PH specialists empower national leaders through presentations at our APHEC and webinars. I discussed our Mariposa project in the context of the information pillar and emphasized our "Call to Action" during the advocacy portion of my presentation. Our Call to Action document demands improvements in five areas:
Enhancing access to expert care
Elevating awareness and screening
Encouraging clinical research and innovation
Empowering patient associations
Ensuring the availability of psychosocial support
In my speech, I also incorporated my personal PH journey and its relation to the topics discussed.
Our session with Dr. Kovacs and Steve seemed to resonate well with the audience, leading Ferrer to express a desire to include patients in future conferences.
The remaining conference time was allocated to healthcare professionals. While the presentations were occasionally technical, they were intriguing and enlightening. The specialists discussed potential future improvements in PH diagnosis, such as the use of blood tests and biomarkers. Phenotyping, or the classification of patients, was another focal point of the discussions. Some patients, for instance, only have Idiopathic PAH, while others fall into multiple PH groups, often accompanied by co-morbidities, which complicates optimal treatment selection. The new guidelines, including the new risk stratification model, were also discussed. Group 3 patients (PH ILD patients) were another topic of interest. The group has not had any specific medication available until recently, when a drug was approved in the US and is anticipated to be approved by the EMA in Europe soon.
The breaks and the standing dinner party on the first evening provided excellent networking opportunities. I engaged with many esteemed doctors and specialists from around the globe. The conference was a well-organized, enriching experience, and I hope that PHA Europe will continue to be a part of it in the coming years.
Hall Skåra
Egersund July 10th, 2023