PHA Europe is committed to supporting fellow patients to receive the most appropriate care for them. Building on the important findings from the International Patient and Carer Survey, we have developed this page to host a range of simple and easy-to-use materials to support your individual care planning and conversations with your healthcare team.
Patient and Carer Dialogue Tools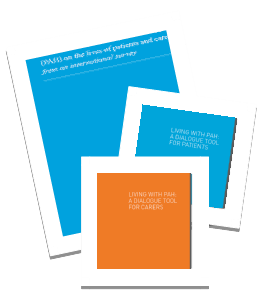 Patients with PAH and their carers can experience a whole range of emotions, from fear and frustration to isolation and embarrassment. The Patient Dialogue Tool and Carer Dialogue Tool have been developed as a simple way of noting down your thoughts and emotions in a structured way so you can get a clearer perspective of how you are feeling. Taking the time to sit down and analyze your emotions can help to give a sense of clarity and can make it easier to explain your feelings to other people. Your notes and observations can also provide a focus for discussion with family and friends and can help you to have a more productive consultation with your doctor.
Download the Patient Dialogue Tool »
'Time to Talk' animation: using your dialogue tool
This short animated film has been developed to encourage and support PAH patients and their families to have open and useful discussions with their PAH team around health and wellbeing concerns, above and beyond their physical symptoms. It shows how the specially developed "Dialogue Tool" can help patients and carers keep track of their feelings and emotions so that they can come prepared to discuss these important aspects of coping with PAH with their specialist team members
Time to Talk' Patient and Carer Pack
Patient and carer guides have been developed to provide a quick reference overview of the dialogue tools to support patients and carers to discuss the impact of PAH on their daily lives. The Patient and Carer Pack includes:
An upfront introduction explaining why the Patient and Carer Pack was developed and outlining what the Pack contains
Advice on how to get the most out of the patient or carer dialogue tool
A summary of the questions in the patient or carer dialogue tool
The International PAH Patient and Carer survey and Time to Talk campaign have been supported by Actelion Pharmaceuticals Ltd, Switzerland.