Mariposa Journal – 2023 summer N.30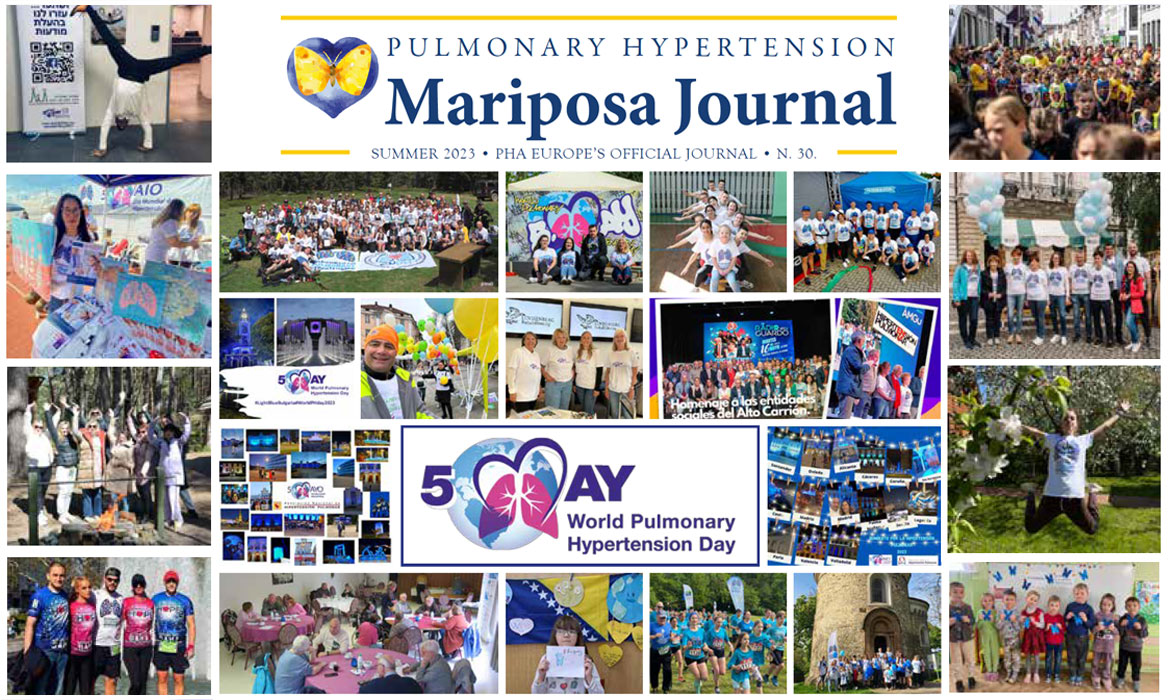 Dear Friends, Colleagues, and Supporters,
Welcome to the summer edition of our magazine Mariposa. This edition is mainly dedicated to World PH Day and all the amazing events that were organised by our members and other associations around the globe. We are proud to have the world lead in this event, which was started by our Spanish association ANHP eleven years ago and then carried on by PHA Europe. It was started as a recognition of the urgency to improve awareness about pulmonary hypertension. This annual event, held on May 5th, brings together organizations, healthcare professionals, patients, and their families from across the globe to highlight the challenges faced by the PH community.
OUR WORLD PH DAY PROJECT HAS THREE MAIN OBJECTIVES AND BENEFITS:
Raising Awareness: World PH Day serves as a platform to educate the public about pulmonary hypertension, its symptoms, and the impact it has on patients' lives. Through various awareness campaigns, including social media campaigns, educational events, and media coverage, PHA Europe aims to dispel misconceptions, reduce stigmas, and encourage early diagnosis.

Building a Global Support Network: The World PH Day project acts as a catalyst for bringing together patients, caregivers, healthcare professionals, and advocacy groups. By fostering a sense of community, PHA Europe empowers individuals affected by PH to share their stories, exchange knowledge, and find solace in a supportive network.

Advocating for Improved Care: PHA Europe leverages the visibility and momentum generated by World PH Day to advocate for better healthcare policies, increased research funding, and improved access to treatments and support services for PH patients. By partnering with medical professionals, policymakers, and other stakeholders, the organisation strives to address the unmet needs of the PH community on both national and international levels.
Once more, the inventiveness of our members has impressed us. They illuminated buildings with blue colour to create awareness for pulmonary hypertension, numerous sports events were held displaying the familiar T-shirts with our shared WPHD logo, healthy people got to experience how it is to live with PH as they breathed air through a straw and simultaneously had a clip on their nose, and the list goes on. Please find time to read about all the events that took place, even in countries currently experiencing trying times.
In addition, WPHD was also successfully posted on all our social media channels. By using professionally-looking visuals that were shared with associations across the globe, we have reached a vast audience. Please check the section dedicated to social media to learn more about our successful digital WPHD campaign.
PHA Europe's World PH Day project stands as a beacon of hope for millions of people living with pulmonary hypertension worldwide. Through its dedication to raising awareness, building support networks, and advocating for better care, PHA Europe has made significant strides in bringing this often-misunderstood disease into the spotlight. PHA Europe and the World PH Day project pave the way for a brighter future for those affected by pulmonary hypertension, fostering understanding, support, and enabling a better quality of life for all.
A big thank you goes out to all members, patients, family members, carers, and friends who contributed to making this WPHD, once again, a great success. And as always, special thanks go out to our industry partners, who continue to support our work. Our mission is clear: We want to raise as much awareness as possible in order to get people diagnosed at an early stage in their disease and, in this way, improve their quality of life (QoL) and extend their lifespan.
The journal is available from here: PHAE – Mariposa Journal (2023 Summer N.30)
Hall Skaara
Project manager – PHA Europe
Call to action p. 4
WPHD webinar p. 6
Social media campaign p. 8
AUSTRIA p. 10
BELARUS p. 12
BELGIUM p. 14
BOSNIA AND HERZEGOVINA p. 16
BULGARIA BSPPH p. 19
CROATIA p. 23
CZECH REPUBLIC p. 26
HUNGARY p. 27
ISRAEL p. 29
LATVIA p. 31
THE NETHERLANDS p. 33
NORTH MACEDONIA p. 35
NORWAY p. 37
PORTUGAL p. 39
SERBIA p. 42
SLOVAKIA p. 44
SLOVENIA p. 46
SPAIN ANHP p. 48
SPAIN FCHP p. 50
SPAIN HPE p. 53
UKRAINE PHA p. 57
UKRAINE PHURDA p. 58
Media clippings p. 60
Austria p. 60
Belarus p. 61
Bosnia and Herzegovina p. 61
Croatia p. 63
Bulgaria BSPPH p. 64
Czech Republic p. 65
Hungary p. 66
Latvia p. 66
Portugal p. 67
Slovakia p. 67
Spain ANHP p. 77
Slovenia p. 69
Spain FCHP p. 70
Spain HPE p. 70
Ukraine PHA p. 71
Ukraine PHURDA p. 72
Sponsors p. 73
Members of PHA Europe and contact details p. 79