World Pulmonary Hypertension Day 2015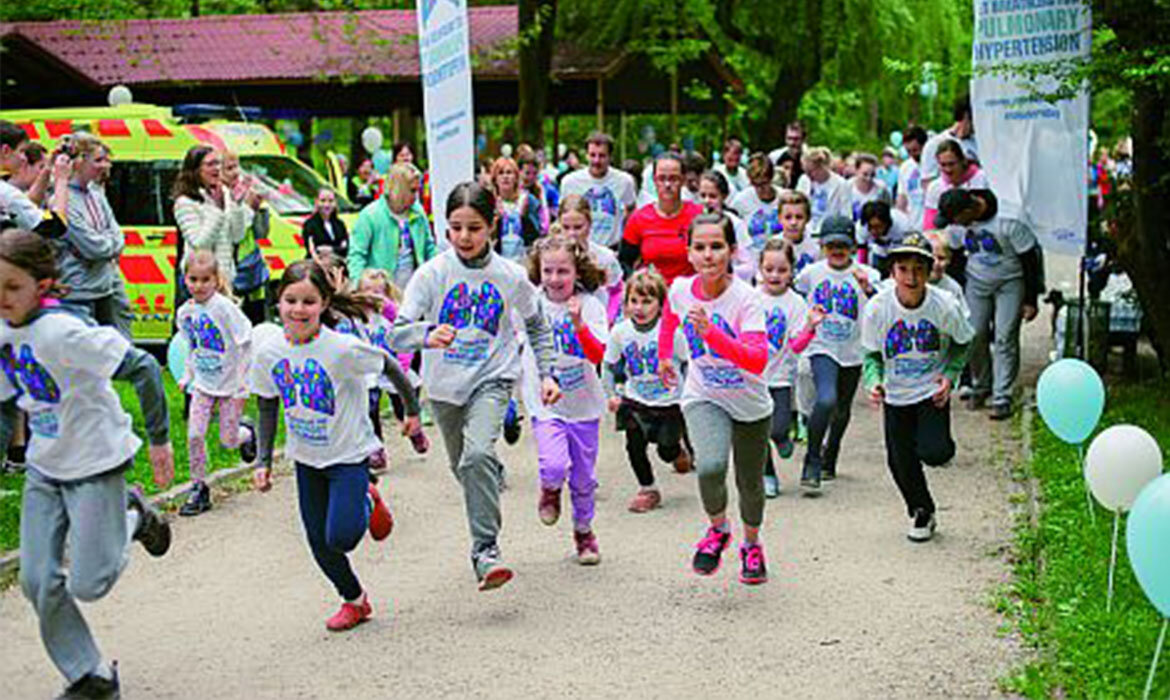 This year the international pulmonary hypertension community joined forces again for the 4th edition of the World Pulmonary Hypertension Day (WPHD) celebrations.
Twenty five countries in Europe united together with the slogan to "Get Breathless for PH" for WPHD, with each country putting their own unique twist on events, ranging from Irish dancing from our Gaelic friends in Ireland to the breathtaking feat of climbing the snowy peaks of Rysy Mountain by members and supporters of the Czech and Slovakian associations. WPHD activities took place in many other countries across the globe including Australia, Canada, China, Latin America, the Middle East and the U.S.A – meaning PH awareness was spread across 45 countries in five continents!
Celebrities and infuential public figures join the cause
Through our joint efforts, a little known condition, PH, is increasingly being made known across the world. More and more celebrity endorsers and influential public figures are joining our cause, including political leaders and health ministers, sporting heroes such as The World's Strongest Man, Franz Müllner, Olympic Gold Medal swimmer Federica Pellegrini, World Champion free diver, Goran Colak, as well as the world-known Riverdance group, rock bands "Beni and Non Stop" and "Neverland" and singing sensation Iván Gardesa. These are only a handful of the big names that pledged their support and proudly stand in solidarity with PH patients – it's incredible to see them sharing in our successes and raising the profile of PH.
Raising awareness of different forms of pulmonary hypertension
This year in Europe, in addition to the activities conducted around the "Get breathless for PH" theme, we also introduced the #BreathofSuccess initiative to the campaign, an educational, story-sharing activity that aims to increase understanding of chronic thromboembolic pulmonary hypertension (CTEPH), the only type of PH to have potentially curative surgery without having to resort to lung transplant. One of the highlights of the #BreathofSuccess campaign was the inspirational film of Gabriele, who underwent successful thromboendarterectomy surgery for CTEPH. His account of the severe limitations with the disease prior to surgery, to post surgery and being able to play and coach the sport he loves again was truly touching to watch (see CTEPH section of the website). #BreathofSuccess continues throughout the year and we hope to see many more positive stories being shared!
Great social media and media outreach
This year again the media played a vital role in accelerating the reach of WPHD. Due to all of the amazing work of the national associations and newsworthy activities, in Europe alone we generated around 500 press/online articles, and almost 100 TV/radio broadcasts! Social media also proved a great platform to drive momentum and help us to spread our messages even further. The PHA Europe Facebook and Twitter pages received a huge surge in page visits and "likes" throughout the campaign indicating increased levels of engagement.
For the second time in the history of WPHD, we launched our "Thunderclap" online social media campaign: 158 people signed up to send out a coordinated message from their Facebook, Twitter and Tumblr channels on May 5, garnering a social reach of 139.694 people – a rise from last year! Over 2.125 uses of the #WorldPHDay and #BreathofSuccess hashtags ensured that PH featured prominently in the online health and public policy conversation.
Partnering with IRONMAN for WPHD in Frankfurt
More success came in the form of our collaboration with the Ironman European Tour, as it proved once again to be a powerful outreach initiative. As the Official Charity Partner of the Ironman European Championship in Frankfurt our presence at the race exposed our message to thousands of spectators and our articles in the official Ironman newsletters ensured thousands more found out about PH. Six brave athletes took part in the grueling triathlon proudly wearing our branded race suits on behalf of PHA Europe and thousands "rang the bell" under the "Get breathless for PH" branded arch on a hot spot of the race course to raise money for the local German PH association – pulmonale hypertonie e.v.
Check out the Summer 2015 edition of our Mariposa Journal for further details and photos!
A full report of WPHD activites around the world is featured in the Summer 2015 edition of the Mariposa Journal.
More WPHD and IRONMAN photos at: https://www.facebook.com/pages/Pulmonary-Hypertension-Association-Europe/141060385915366
A very big thank you to each and every one of the PH associations who celebrated WPHD for the remarkable contribution and perseverance in their pursuit for improved treatment and care for those living with PH. A very big thank you also to our industry partners, whose partnership and dedication to WPHD has allowed us to grow from strength to strength every year.