Joining forces to mark World PH Day, May 5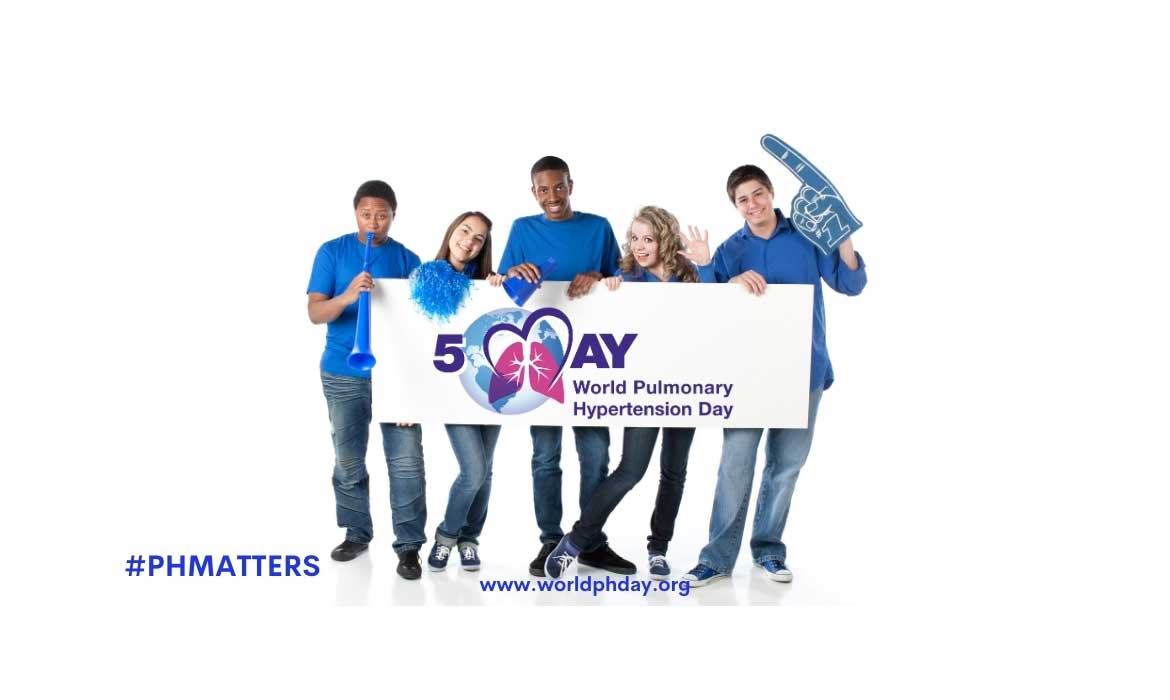 FOR IMMEDIATE RELEASE
[Vienna] (5th of May, 2021) –
World Pulmonary Hypertension Day is an annual global event to raise awareness of pulmonary hypertension (PH), a severe condition affecting the lungs and heart.
On May 5, more than 80 organizations around the world will participate in World PH Day activities to raise awareness of this frequently misdiagnosed disease and celebrate the lives of people living with PH.
Due to the COVID-19 pandemic it is still not possible to organize in-person events in many countries, but with a great variety of initiatives we make WorldPHDay remarkable and as colorful as possible: we expect many famous buildings illuminated in our colors on the 5th of May!
The global PH community is encouraged to raise awareness of PH by sharing photos of activities on Facebook, Twitter or Instagram, using the common toolkit, and adding #PHmatters and #WorldPHDay2021 hashtags.
A global calendar of events also helps in navigating amongst the various events and facilitate the community to join the local initiatives.
We filed an online petition to ensure better access to treatment. You can learn more about this initiative and support it here.
Series of free webinars will provide insight into interesting topics, as nutrition, how to cope with everyday life and what is the importance of the quality of life measures.
The global PH community is also encouraged to address the policy makers and decision makers to support and facilitate research. A high-profile event with the participation of Members of the European Parliament was organized on the 21st of April to mark World PH Day. The recording is available here.
Facts About PH
The most common symptoms of PH include shortness of breath, fatigue and chest pain and are often mistaken for other conditions, such as asthma or lack of fitness.
In many developed countries, pulmonary hypertension patients spend an average of 2-3 years seeking an accurate diagnosis. By the time they are diagnosed, 75% have progressed PH.
For populations worldwide, PH can exist alone or in association with many other conditions including chronic obstructive pulmonary disease (COPD), lupus, scleroderma, HIV, sickle cell anemia, pulmonary emboli and connective tissue disorders. It has also been associated with methamphetamine use.
In the developed world, PH is most commonly associated with left heart disease.
In the developing world, schistosomiasis, caused by parasitic flatworms – also known as snail fever — is the greatest cause of PH.
PH can strike anyone, regardless of age, sex, race, social or ethnic background.
"Knowledge, understanding, awareness, and tolerance are the key to the future of all patients. The 5th of May is the annual and symbolic global event to raise awareness of pulmonary hypertension, but in front of us is the whole life of fighting with it, every day, every minute. Be patient. We are stronger together." – Danijela Pesic, President of PHA Europe
If you would like to learn more about this rare lung disease or interested in participating any of the events please visit https://worldphday.org/.
About PHA Europe
PHA Europe is the umbrella organization for national associations of patients living with pulmonary hypertension (PH) in Europe. It was founded in Vienna, Austria, in 2003 and is registered as an international non profit organization.
PHA Europe works together with its members to enhance awareness of PH across Europe, promote optimal standards of care for people living with the disease, ensure the availability of all approved treatments and encourage research for new medicines and therapies.
For more information, please go https://www.phaeurope.org/
You can download the press release in pdf format from here.
PHA Europe
Wilhelmstraße 21, A-1120 Vienna, Austria
(+43) 1 402 3725
info@phaeurope.org
###