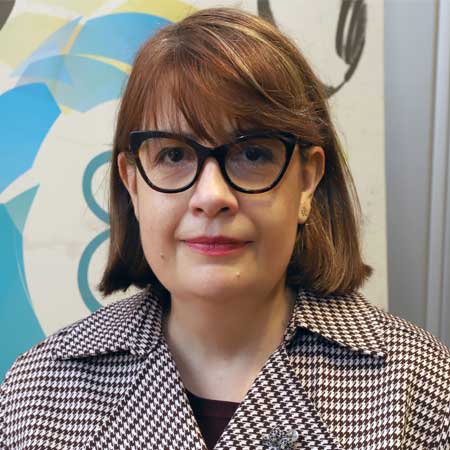 Natalia Maeva
Secretary
Education
Master's degree in Journalism and Mass Communication, as well as a Ph.D
Born on November 25th, 1970
Lives in Sofia, Bulgaria
Education and professional experience
Natalia Maeva holds a master's degree in Journalism and Mass Communication, as well as a Ph.D. in Political Science from Sofia University "St. Kliment Ohridski". She started her career as a radio reporter and continued to work as a PR & marketing specialist for several Bulgarian ministries, banks and privet companies. Her international career led her to Greece, Poland and Switzerland, where she worked as a regional manager.
Natalia work experience has provided her with skills in planning events, activities and tasks, contract negotiations, accounting and financial procedures, public speaking, as well as business & promotional writing. She has many years of administrative expertise, that has allowed her to build on her skills in managing multiple tasks and to adapt and solve unpredictable scenarios and challenges.
Currently she works as editor in Digital Programs Directorate in Bulgarian National Radio.
PHA Europe position
Natalia became part of PHA Europe's Board in 2016 as vice-treasurer. Since December 2019 she was elected for secretary. Since January 2022 she was re elected for second term. Starting from her personal drives it is essential to share that she have been fighting pulmonary hypertension (PH) for more than 13 years. In additional she is also a double lung transplant patient, who is blessed to live a normal active life for the last four years.
She have been fighting lung-related diseases for many years now and instead of making her lose her strength and her hope, she is excited and more eager to not only help herself but also her fellow European citizens. Her personal point of view is that as patients "we must fight against the existing health inequalities". All Europeans deserve to have equal access to innovative therapies, especially when it comes to rare diseases.
Other patient advocacy positions
Since 2018 she work hard as a Deputy Chair of the Bulgarian association of the patients with respiratory failure and lung transplantation. Twice she was selected by the EPF (2017, 2018) for their Leadership training which she have completed successfully. Also was invited as patients representative of EMA and have participated to consultations upon EMA's invitation in London – 2017 and 2018. Since May 2020, she has been elected for patient representative (ePAG) in the ERN-Lung, which covers nine groups of rare lung diseases. Natalia is a former deputy president of the biggest umbrella organization in Bulgaria-National Patients' Organization, where she was responsible for rare diseases and transplantation. She is PAG in COVID-19 group, as well as part of United PAG of the European Lung Foundation (ELF), ePAG in ERN-Lung and PAG in European Society of Radiology (ESR). She finished successfully EURORDIS Leadership School in November 2021.
Languages
Natalia is a native Bulgarian speaker and is fluent in Russian, Greek and English. She also has basic knowledge of German and Serb-Croatian.
We must fight against the existing health inequalities.